Spring 2020 Bull Sale
Wednesday 23 September 2020 @ 1pm.
50 HBR & APR registered Angus bulls will be on offer at our 2020 Alpine Angus Spring Bull Sale.
The Sale commences at 1pm on Wednesday 23 September 2020 at the Alpine Angus Sales Complex, 1138 Happy Valley Road, Rosewhite.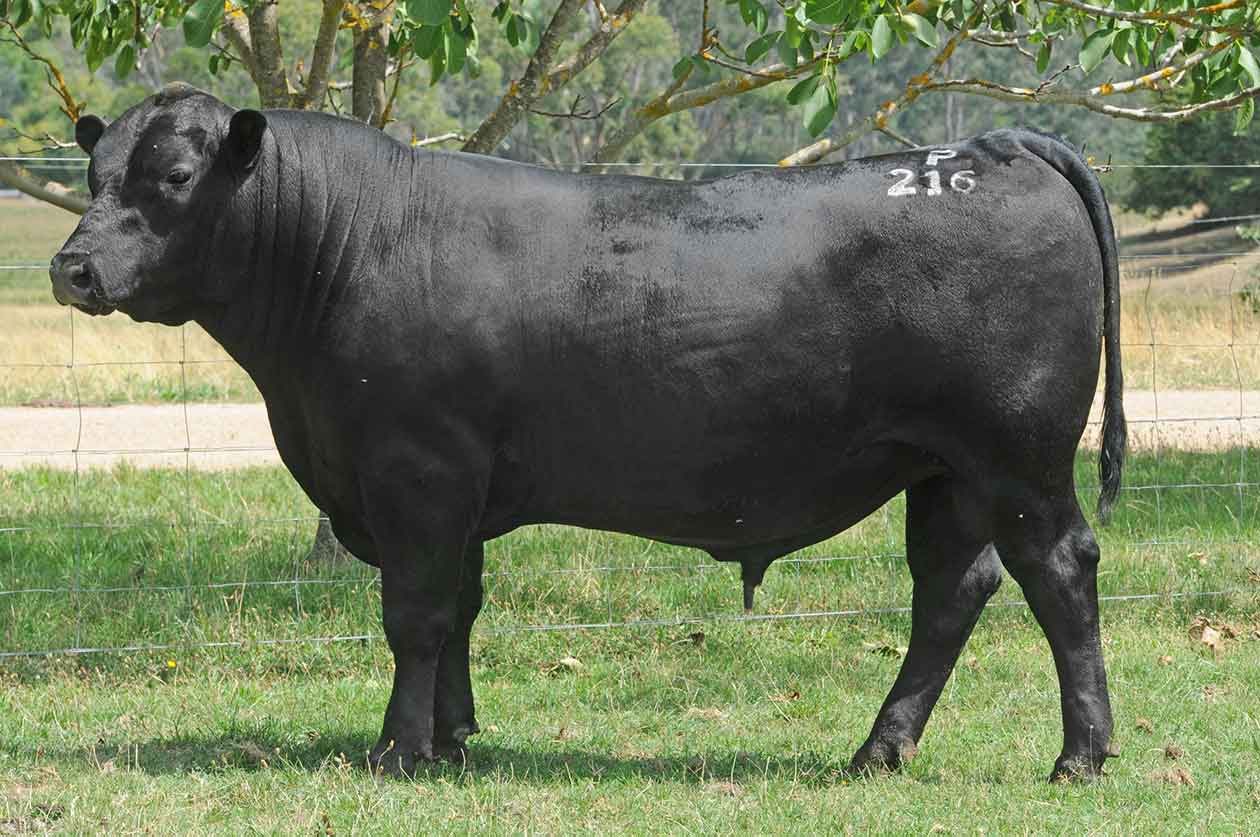 Above: Top price of $13,000 was paid for this Leader son, Alpine Leader P216 bought by L & MS Ham at the Alpine Angus Autumn 2020 Bull Sale.
---
North-east Victorian stud, Alpine Angus, Rosewhite, are preparing for their upcoming Spring Bull Sale on Wednesday 23rd September with a strong line up of Angus 50 HBR and APR Angus Bulls.
This follows Alpine's very successful Autumn Bull Sale in March this year which delivered a total clearance of 78 bulls selling to $13,000 with an average of $7,240.
The buoyant sale occurred despite the sudden onset of COVID-19 social distancing restrictions in the hours leading up to the sale which had to be complied with to ensure the safety of those in attendance. For this reason for the first time Alpine also conducted the sale via Auctions Plus to allow those not wishing to attend the opportunity to directly participate in the sale.
Stud manager Chris Oswin said the sale was a good result, particularly the total clearance. "We are fortunate to enjoy very strong local support ," he said.
The Spring Sale line up showcases Alpine's focus on a big growth spread from low birth to high 400 and 600 day growth as well as breeding bulls with a body type demonstrating good capacity and fleshing. The Sires' with sons represented in the Spring Sale include Baldridge Beast Mode B074, Sitz Investment 660Z, Texas Mount K2, A A R Tex X 7008 and Deer Valley All In.
Alpine Angus has developed a Quality Assurance program among the best in the industry with thorough pre sale preparation comprising a full vaccination program and independent structural assessment and semen quality test in addition to the 3 Year Guarantee.
Alpine Principal Jim Delany "Given all augurs well for a good spring generally with markets and the season working in favour of beef production we hope our buyers can bid with confidence knowing that their investment in Alpine genetics will be rewarded."
The sale will commence in the Alpine Sales Complex Rosewhite at 1pm. Once again the Auction will also be conducted on Auctions Plus to afford buyers the opportunity to bid online. Sale bulls will yarded for inspection by 10am on sale day . Those wishing to inspect the bulls prior to sale day are welcomed to make a mutually convenient appointment with Chris Oswin.